Stainless Steel Tube Fittings Manufacturer & Supplier
Stainless Steel Tube Fittings Supplier, SS 304 Ferrule Fittings Manufacturer, SS 304l Compression Ferrule Fittings Stockist, SS 316 Instrumentation Fittings Exporter, UNS S30400 Tube Fittings Trader, UNS S30403 Compression Tube Fittings Stockist, UNS S31600 Compression Fittings Supplier in Mumbai, India.
Stainless Steel Female Adapter Supplier, SS Female Branch Tee Manufacturer, SS Female Bulkhead Stockist, SS Female Connector, SS Female Elbow, SS Female Run Tee, Stainless Steel Male Adapter Dealer, SS Male Branch Tee Exporter, Stainless Steel Male Bulkhead Tee Distributor in Mumbai India.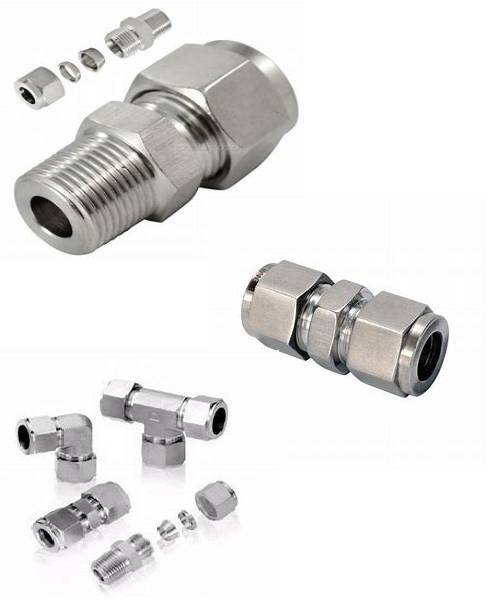 DM Metalloys is India's leading manufacturer, supplier and stockist of Stainless Steel Tube/Ferrule Fittings. These SS Compression Tube Fittings are available in various sizes, threads, types, pressure ratings, standards and other specifications as per customers requirement. These SS Tube pipe fittings are manufactured with the best quality raw materials and our quality control team ensures that quality is not compromised at any stage. These stainless steel  Tube fittings are available in different standards like ASTM, ASME, AISI, DIN, BS, EN IS, JIS & other international standards.
We stock and supply Stainless steel Tube fittings in different Stainless Steel grades and types like Stainless Steel 304 Female/Male Adapter, Stainless Steel 304l Female/Male Branch Tee, Stainless Steel 316 Female/Male Bulkhead, Stainless Steel 304 Female/Male Connector, Stainless Steel 304 Female/Male Elbow, Stainless Steel 304l Female/Male Run Tee. These Stainless steel Tube Fittings are used in various industries & applications like oil & gas, petrochemicals, power generation, pharmaceuticals industries, heat exchangers, condensers, pulp and paper industry, etc. Our Stainless Steel Tube Fittings are corrosion resistant, and durable.
DM Metalloys is one of the top leaders in supplying Stainless Steel Tube Fittings across the world. Contact us today with your requirements. Our sales team will get back to you with the best quote for your requirement for Ferrule/Tube Fittings.
Latest Price of Stainless Steel Tube Fittings. SS 316 Compression Fittings Distributor, SS 304l Straight Union Stockist, SS Quick Release Coupling Supplier, SS Hex Coupling, SS Male X Female Elbow, SS 304 Three Piece Union Trader, SS Swivel Adjustable Elbow, Stainless Steel Collar, SS Swivel Union Manufacturer in Mumbai, India
Product Specifications:
Grades:
Specialized in Stainless Steel - 202 / JT / J4 / 304 / 304L / 304H / 310 / 310S / 316/316L / 316Ti / 317 / 317L / 321 / 321H / 347 / 347H / 409 /409M / X2CRNI12 / 410 / 410S / 441 / 441-HONDA / 420 / 430 / 904 / 904L
Duplex F51 2205 UNS S31803, Super Duplex 2507 (UNS S32750), F55 (UNS S32760)
Size:
1/16"OD to 2"OD,OD to 50mm OD
Thread:
Thread NPT,BSP,BSPT,UNF
Pressure Rating:
6000PSI for Stainless Steel,300/1000/3000PSI for Brass
Types of Ferrule Fittings:
ASTM A376 SS 304 Double Ferrule Tube Fittings
Stainless Steel A479 Front Ferrule Fittings
SS 304L Twin Ferrule Fittings Suppliers
310 SS Front Ferrule Fittings Manufacturer
Stainless Steel 310S Adaptor Distributors
Stainless Steel 316 A276 Union Tee
SS 316L Male Branch tee Distributors
Stainless Steel ASTM A479 Female Run Tee
Top Quality A276 SS 317 Union Tees Exporter
ASTM A276 SS 317L Hex Coupling Stockiest in India
Stainless Steel 321 Union Elbow Coupling
SS ASTM A276 Hex Nipple Dealers
ASTM A479 Stainless Steel Reducing Union
Stainless Steel 321H Tube End Closuer
Stainless Steel 446 Tube Plug
Stainless Steel ASTM A276 Thread Connector Stockholder
ASTM A276 Stainless Steel 904L Fitting End Closure
SS ASTM A276 Coupling Cap / Nut Exporter