Stainless Steel 316 Flanges Manufacturer & Supplier
Stainless Steel 316 Flanges Manufacturer, SS 316 Flanges Supplier, UNS S31600 Flanges Stockist, Stainless Steel 316 Weld Neck Flanges Exporter, Stainless Steel 316 Slip on Flanges Dealer, Stainless Steel 316 Blind Flanges Distributor, SS 316 Socket Weld Flanges Supplier in Mumbai, India.
DIN 1.4401 Flanges Stockist, SS 316 Lap Joint Flanges Manufacturer, Stainless Steel 316 Reducing Flanges Trader, SS 316 Spectacle Blind Flanges Dealer, Werkstoff Nr. 1.4436 Orifice Flanges Supplier, SS 316 Industry Standard Flanges Manufacturer, SS 316 SORF Flanges Exporter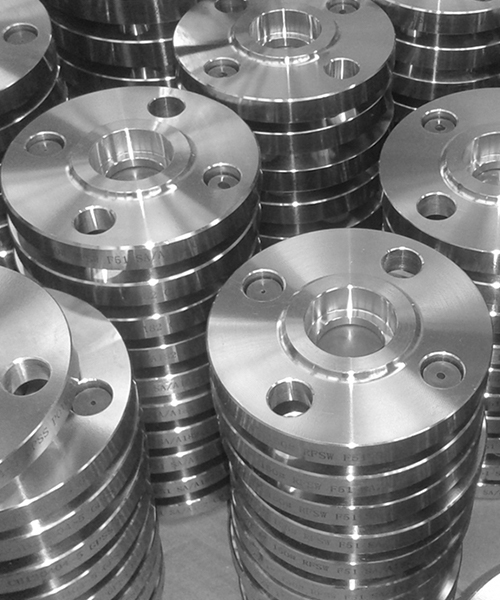 D.M. Metalloys is a prominent manufacturer, supplier & stockist of stainless steel 316 flanges. We supply ss 316 flanges in different sizes, dimensions, class/pressure, types and other specifications as per clients requirement. These ss 316 flanges are manufactured using top quality raw materials and our highly qualified engineers ensure that quality is not compromised at any stage. These stainless steel flanges are available in different standards like ASTM, ASME, AISI, DIN, BS, EN IS, JIS & other international standards.
We stock and supply Stainless steel 316 flanges in different types like ss 316 blind flanges, ss 316 weld neck flanges, ss 316 slip on flanges, ss 316 reducing flanges, ss 316 custom flanges, ss 316 plate flanges, ss 316 forged flanges, ss 316 swrf flanges, ss 316 wnrf flanges, etc. We supply these ss 316 flanges to various industries & applications like oil & gas, petrochemicals, power generation, pharmaceuticals industries, heat exchangers, condensers, pulp and paper industry, etc. Our stainless steel Flanges are corrosion resistant, have good strength and durability.
D.M. Metalloys is one of the top leaders in supplying stainless steel 316 flanges across the world. Contact us today with your requirements. Our sales team will get back to you with the best quote for your requirement for Flanges.
SS 316 Large Diameter Flanges Manufacturer, SS 316 BLRF Flanges, SS 316 Screwed Flanges, SS 316 Threaded Flanges, SS 316 Blanks, Stainless Steel 316 Forged Flanges Stockist, SS 316 Nippolet Flanges, SS 316 Spacer Flanges Stockist, SS 316 Ring Type Joint Flanges Exporter in Mumbai, India.
Stainless Steel 316 Flanges Specifications:
| | |
| --- | --- |
| Grades: | Specialized in Stainless Steel - 316 |
| Specifications: | ASTM A182 / ASME SA182 |
| Size: | 1/2? (15 NB) to 48? (1200NB) |
| Standards: | ANSI/ASME B16.5, B 16.47 Series A & B, B16.48, BS4504, BS 10, EN-1092, DIN, etc. |
| Class/Pressure: | 150 LBS, 300 LBS, 600 LBS, 900 LBS, 1500 LBS, 2500 LBS, DIN Standard ND-6, 10, 16, 25, 40, etc. PN6, PN10, PN16, PN25, PN40, PN64 etc. |
| Dimensions: | ANSI Flanges, ASME Flanges, BS Flanges, DIN Flanges, EN Flanges, etc. |
| Types: | Slip on Flanges, SORF Flanges, Weld Neck Flanges, Blind Flanges, Socket Weld Flanges, Orifice Flanges, Ring Type Joint Flanges, Reducing Flanges, Spectacle Flanges, AWWA Flanges, Long Weld Neck Flanges, Lap Joint Flanges, Customize Flanges, Puddle Flanges, Spade Blind Flanges, Spacer Flanges, RTJ Flanges, Forged Flanges, etc. |
---
Stainless Steel 316 Flanges Chemical Composition:
| Grade | C | Mn | Si | P | S | Cr | Mo | Ni | N |
| --- | --- | --- | --- | --- | --- | --- | --- | --- | --- |
| SS 316 | 0.08 max | 2 max | 1.0 max | 0.045 max | 0.030 max | 16.00 – 18.00 | 2.00 – 3.00 | 11.00 – 14.00 | 67.845 min |
---
SS 316 Flanges Mechanical Properties:
| Grade | Density | Melting Point | Tensile Strength | Yield Strength (0.2%Offset) | Elongation |
| --- | --- | --- | --- | --- | --- |
| SS 316 | 8.0 g/cm3 | 1400 °C (2550 °F) | Psi – 75000 , MPa – 515 | Psi – 30000 , MPa – 205 | 35 % |
---
Stainless Steel 316 Flanges Equivalent Grades:
| STANDARD | WERKSTOFF NR. | UNS | JIS | BS | GOST | AFNOR | EN |
| --- | --- | --- | --- | --- | --- | --- | --- |
| SS 316 | 1.4401 / 1.4436 | S31600 | SUS 316 | 316S31 / 316S33 | – | Z7CND17?11?02 | X5CrNiMo17-12-2 / X3CrNiMo17-13-3 |
---
Stainless Steel 316 Flanges Types:
Stainless Steel 316 Flanges
Jindal Stainless Steel Flanges Distributor
UNS S31600 Stainless Steel Flanges Exporter
Jindal Stainless Steel 316 Flanges Dealer
Jindal S.S. UNS S31600 Flanges Manufacturer
Stainless Steel 316 Flanges Supplier
WERKSTOFF NR. 1.4401 / 1.4436 Stainless Steel Flanges Stockist
Stainless Steel Flanges Inventory
Stainless Steel UNS S31600 Flanges Supplier
Stainless Steel 316 Flanges Stockist
Stainless Steel SUS 316 Flanges Inventory
Stainless Steel 316 Flanges Prices
Stainless Steel Flanges Manufacturer
UNS S31600 Stainless Steel Flanges Prices
Stainless Steel WERKSTOFF NR. 1.4401 / 1.4436 Flanges Manufacturer